TD-941NOVA is our innovatively new brushless pet dryer. It is the perfect professional dryer for drying your pets after pet bathing. This is the number one solution for professional pet grooming businesses. Its brushless motor can work for more than 4,000 hours. It's the pet dryer with the longest service life on the market; no other machines can be compared with it. Get more done with more power and less maintenance!
The powerful motor and special seamless cylinder design provide very strong concentrated air supplies. It dries your pet effortlessly and quickly.
Users can easily adjust the variable wind force and heater power by rotating the button. The patented nozzles not merely concentrate air for force drying, but also cool down the handle
where you hold the hose to avoid overheating, which happens on many other existing products in the market.
It also comes with a heat insulation sleeve on the front portion of flexible hose, providing extra protection on your forearms.
It comes with a long flexible hose. It is self-expanding and retractable, taking up much less space when not in use.
With the portable size, relatively light weight and easy-to-carry handle, our dryers can be easily lifted without straining your back or muscles.
The detachable cleaning filter blocks dust and prolongs the service life of the machine.
Accessories: Round Nozzle, Flat Nozzle, Heat Insulation Sleeve, Flexible Hose.
So many years after the high velocity dryer has been invented, the whole industry is still struggling with the lifespan of the motor service life, that's really frustrating and disappointing, it is time to make some fundamental changes.
This new brushless motor is the answer, not merely about the longer span, also about no annoying carbon dust, lower noise and much stronger performance.
Now, the future technology is presented to you.
A. 8 times longer life
The average service life of normal brushed motor is about 650 -800 hours, this new brushless motor can work for over 4,000 -5,000 hours, with median lifespan is 8 times longer than traditional brushed motors.
B. Patented nozzles
Based on authoritative groomers' guidance and hundreds field tests, these two nozzles have been invented, the shell of which can be naturally cooled when high speed hot airstream is blown out from the inside channel, realizing very comfortable and safe gripping. The narrow nozzle with crescent convex edge is the ideal tool for limbs drying, the round pointy nozzle with angle is very helpful for reaching abdomen and dealing with sensitive area like ears.
C. Super strong performance
This powerful motor outcomes most brushed motor in the market, can even challenge our legendary motor which has been used on TD-901GT Aeolian for over 10 years earning "the most powerful single motor dryer" fame.
With 945g blow force, it's surely among the most powerful single motor dryer camp in the whole pet grooming industry.
D. Low wind speed + high heat
It has been requested for many years by groomers to have low wind speed + high heat setting, especially when they are using hard pipe turning high velocity dryer into a finish dryer. With extreme concerns over safety factors, it hasn't been fulfilled until now, when we developed a brand-new safety control system ensuring both the heating element and motor will be safe without any risks.
Using the high velocity dryer as finish dryer would dramatically shorten the service life in brushed motor era, but now the brushless motor has solved the problem. With low speed + high heat function realized, it can perfectly make this dryer a 2-in-1 machine playing both high efficiency dryer and gentle finish dryer very well.
E. Upgraded hose formula
The hose has been tortured by physical extension and retraction, by high heat burning, by high pressure expansion too, seeking for a new formula to handle all these things have been a goal on our to-do-list for many years.
A very special formula has been worked out in 2020 by our chemist team, which can extend the service life of the dryer hose by 6 -8 times in real using environment.
F. Heat insulation hose sheath
The front end of the hose still has the risk to burn groomers' front arms though the handheld nozzles have been equipped with the new cooling technology, so a 20" long heat insulation hose sheath has been added to prevent overheat on this portion, to make sure all contactable parts on this dryer is cool and safe to touch.
G. No carbon dust pollution
The grinded off carbon dust from traditional motor is tiny; the invisible particles can pollute the environment, bring dusty marks to animals being dried, can be inhaled into groomers' respiratory system even into lower tracts and alveoli, generating irreversible damages to groomers' health.
This new brushless motor has gotten rid of this risk, generating no carbon dust at all, eliminating all the troubles above.
8 times longer life
Patented nozzles
Super strong performance
Low wind speed + high heat
Upgraded hose formula
Heat insulation hose sheath
No carbon dust pollution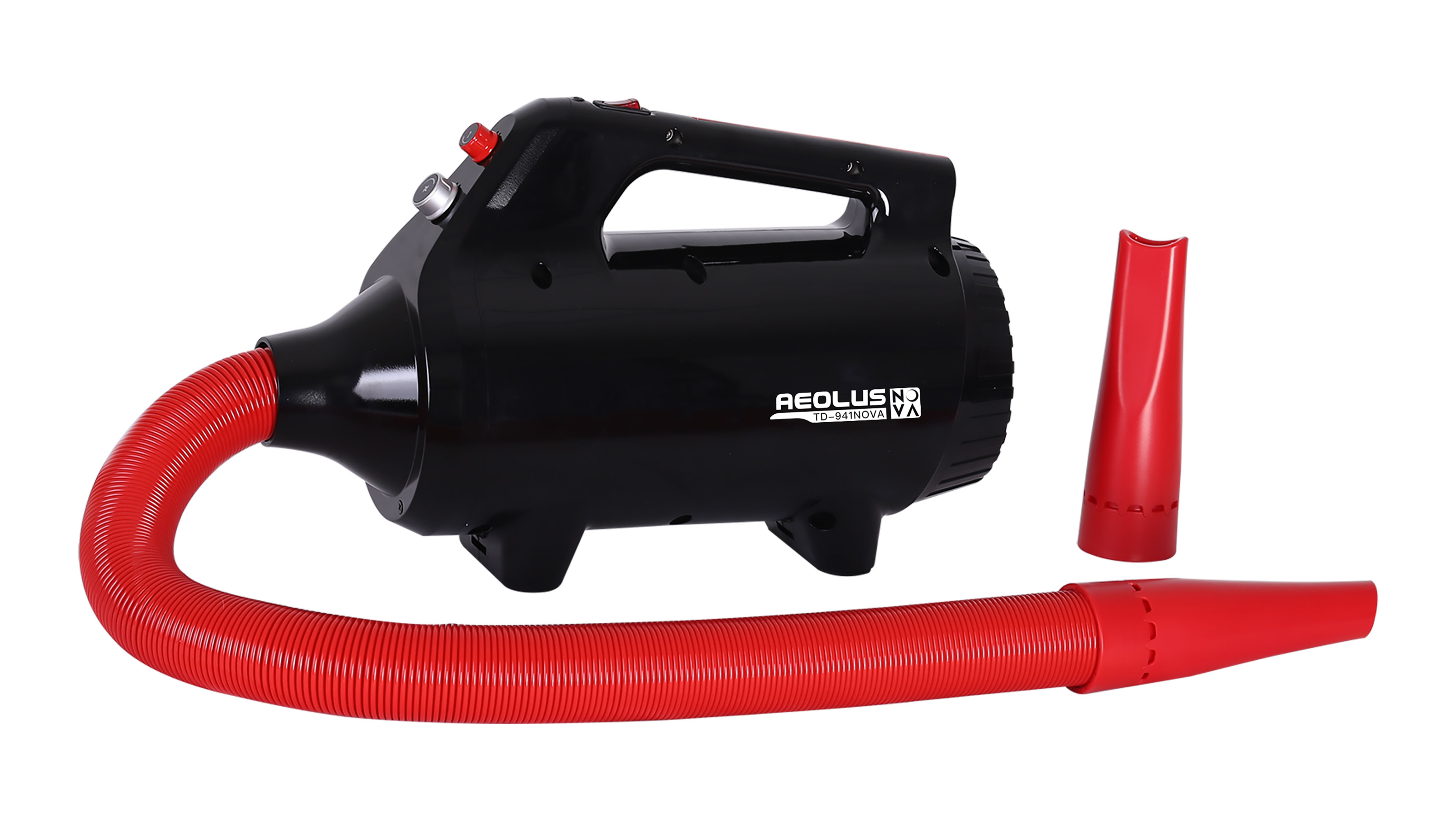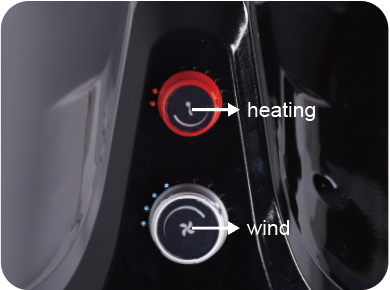 Adjustable Heating & Wind Button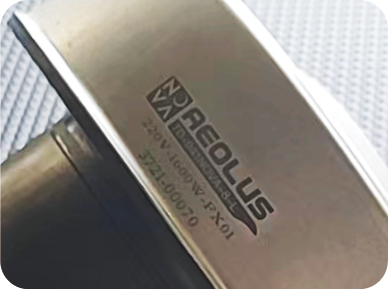 Brushless Motor